During the month of October I am participating in a month-long blog hop with some amazing artists. Everyday you will find a new Halloween project on all of the blogs listed below. Each project must have stamping on it, be it digi or ink. There are prizes to win, be sure to check out all the rules HERE and information on the daily scavenger hunt is posted there! You must go HERE to find the item/s you are looking for the scavenger hunt.
Welcome to Day 5 of the 31 Days of Halloween hop with SmearedInk.com! On Sundays I like to do a mixed media piece with leftovers from previous projects....I keep a box lid with discarded pieces and bits just for this.
I love the size of a fatbook page for this project--it's traditionally 4×4" square. Like ATCs these little pieces of art are to be traded! I adhere the bits and pieces to the square with gel medium/
I then apply a layer of Gesso to the entire surface and a light coating of orange acrylic.
Next I drybrush on some brown paint. This is when things really start to speak to me. The highlighted textures are my favorite part of this technique.
Now that my base is complete, I stamp the skeleton image with embossing powder adhesive and heat emboss with Black Detail EP. Next I stencil the word SKELETON on the page with Dylusions mist and finally heat emboss a border around the page and highlight the chunkier pieces on the page with vintage black EP.
I hope you enjoyed my fatbook page project! Please join me again tomorrow!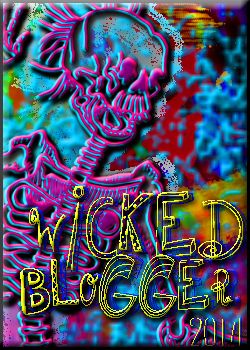 Smeared Ink Wicked Bloggers 2014