During the month of October I am participating in a month-long blog hop with some amazing artists. Everyday you will find a new Halloween project on all of the blogs listed below. Each project must have stamping on it, be it digi or ink. There are prizes to win, be sure to check out all the rules HERE and information on the daily scavenger hunt is posted there! You must go HERE to find the item/s you are looking for the scavenger hunt.
Welcome to Day 17 of the 31 Days of Halloween hop with SmearedInk.com! I first want to thank you all for the outpouring of well wishes and kindness that you all offered. You're intentions were felt and appreciated! Thank you. My appointment went well and except for some soreness I came through fine on the other side. We will know more next week as to the results of the tests.
...AND now on to my tag! The sentiment with the moon and cemetery scene were created using 3 stamps from Viva Las VegaStamps. It was layered on a piece of burlap, a piece of embossed purple core card stock and a piece of orange Bazzill. All pieces were distressed and inked with my favorite Frayed Burlap! A bit of white chalk pencil doodling and pen stitching and a simple bow completed the tag! I hope you enjoy my project! Please come back tomorrow for more!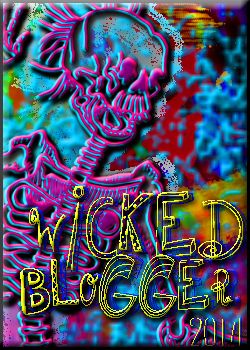 Smeared Ink Wicked Bloggers 2014