During the month of October I am participating in a month-long blog hop with some amazing artists. Everyday you will find a new Halloween project on all of the blogs listed below. Each project must have stamping on it, be it digi or ink. There are prizes to win, be sure to check out all the rules HERE and information on the daily scavenger hunt is posted there! You must go HERE to find the item/s you are looking for the scavenger hunt.
If you're looking for my Delightful Challenges post, it is here.
Welcome to Day 23 of the 31 Days of Halloween hop with SmearedInk.com! Today I have a bit of news...since I so publicly shared my fears over the biopsy last week, I am pleased t share the news artfully and publicly as well.I got the call from the doctor's assistant today that my results came back and my nodule is benign--or BEE-nign! :) Yes, I'm pleased beyond words...and relieved...and EXHAUSTED. Worrying is tiresome. So I go back in 6 months to monitor the lumpy lump and see how it goes. Thank you all for your concerns. I appreciate each and everyone of you!
SO...today I use my favorite BEE Afraid digital image pre-colored from Digital Delights by Louby Loo and create another fat book tile announcing my results. To create this tile I printed my bee with sentiment onto transparency with my way-cool color laser printer--have I told you how much I LOVE this printer?!?!? For the "dark night" I used some of the resist Kraft from Tim Holtz's collection and misted black Dylusians and Pewter Perfect Pearls Mist. I dried it completely and then sprayed white to "shadow" my clear image using a mask I had cut from a cardstock image of the same size. When I was happy with the whiteness of my "shadow" I dried the tile again and affixed my clear overlay to the tile with brads!
I hope you enjoyed my fat book tile! Please come back tomorrow!!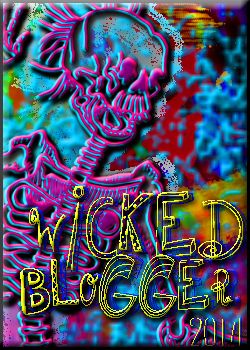 Smeared Ink Wicked Bloggers 2014
Coming Soon to a Blog Near You!!!