During the month of October I am participating in a month-long blog hop with some amazing artists. Everyday you will find a new Halloween project on all of the blogs listed below. Each project must have stamping on it, be it digi or ink. There are prizes to win, be sure to check out all the rules HERE and information on the daily scavenger hunt is posted there! You must go HERE to find the item/s you are looking for the scavenger hunt.
Ms. Vampire
Welcome to Day 19 of the 31 Days of Halloween hop with SmearedInk.com! I was away from my computer all day yesterday and when I read my comments about the missing "puzzle" piece from yesterday I knew I needed to post-pone today's scheduled post for a puzzle tutorial!! YAY!!! In my post yesterday I referred to the popsicle sticks as a puzzle piece inadvertently because I use them as puzzles for kids party favors often...Below is the process of how to make your own puzzle using digital images! You could easily use stamps as I did yesterday or even paint and doodle puzzles.
Begin using images that are wide enough for your sticks...
if you desire a double-sided puzzle for more of a challenge
use 2 images.
Glue the sticks to the paper
once dry you will cut apart the sticks. It is much simpler to do
one side and then repeat on the other...you will not be cutting
blindly. I actually cut from the side with the sticks to see
where I'm cutting.
sticks cut apart
Sand the sticks.
All sanded! :)
Glue to the 2nd image and repeat, cut, sand.
Now I like to edge the sticks with a dark marker--here I used charcoal.
This is the puzzle completely edged. You could
stop here...But I love the look of them inked too.
The completed puzzle pieces all random! Ready to put the puzzle together
Mr. Vampire!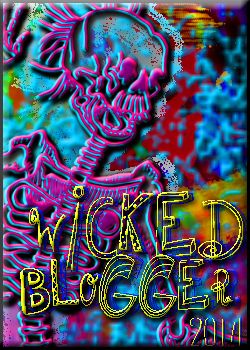 Smeared Ink Wicked Bloggers 2014