During the month of October I am participating in a month-long blog hop with some amazing artists. Everyday you will find a new Halloween project on all of the blogs listed below. Each project must have stamping on it, be it digi or ink. There are prizes to win, be sure to check out all the rules HERE and information on the daily scavenger hunt is posted there! You must go HERE to find the item/s you are looking for the scavenger hunt.
If you are looking for my Delightful Challenge Post it is here.
Welcome to Day 16 of the 31 Days of Halloween hop with SmearedInk.com! Happy Thursday everyone--warning this post is an overshare and might not be suitable for everyone...that's okay, I understand. Just look at the tile and read no further. I promise, I will not share a valued technique today. This is a personal story and rather the madness behind the tile.
Today I was "scheduled" to do a tag but I changed my mind. Let me tell you why and what's behind this strange tile. I am having a biopsy today for my thyroid...let's back up. Before my daughter turned 2 (she is now 8), I was diagnosed with Thyroid disease...I had Hypothyroidism--think thyroid in hyperdrive to produce--not making enough. As a condition of this you sometimes have a swollen thyroid, sometimes you get goiters [think lumpy balls] in your thyroid. When I was first diagnosed I was diligent in taking my medicine--not. The only daily pill I had been on ever was a birth control pill and it had been a good 9 years since I had taken one of those. I did not want to take a daily pill. I was not good at remembering. After a few years of attempting to remember my medication I just finally gave up and went into a 6 year period of denial where I did not take it and I did not go to the doctor--EVER.
After a difficult year medically with my son and my husband, I had promised my health would take center focus...if only I knew then.... So I started this journey with the new year--my word was THRIVE, right? I was going to THRIVE in every aspect of my life. A checkup led to more invasive doctors visits....a diagnosis of high blood pressure--score 2 pills--a diagnosis of diabetes--score a pill and a lifestyle adjustment--a diagnosis of hypothyroidism--score that stupid little pill I didn't want to take to start with and more invasive tests.
This summer I went through a horrifying sonogram with a crazy technician that had me convinced I had thyroid cancer. She was inappropriate and we hope wrong...we will know shortly. I got sent to a specialist last month to discuss "the next step." That is what we're calling the biopsy..."the next step." Basically this is to prove without a doubt that there is no cancer but rather some benign gunk in my thyroid in little goiters that can stay in me as long as they do not become a problem with my swallowing, breathing, etc. While I have tried the denial of stress thing for the last few months, those close to me know that this is killing me inside. This is evidenced by the explosion of fever blisters across my lips today [written Wednesday].
So Wednesday night before my biopsy, as I looked at my cut tag and thought of what I wanted to add, I kept thinking how frightened I was of not knowing, how the doctor would be poking me with various skinny long needles and making slides of the goo that she pulled out...I really felt like I would look like Dr. Frankenstein's Monster as I laid there while the doctor held her sono-wand in one hand going from lump to lump and sticking needles in my neck. So as I worried and relieved some stress, I misted and stenciled and stamped and embossed and ended up with my Frankenstein's Monster Tile. There you go...the method to today's madness. I hope you enjoy my project! Please come back tomorrow for more!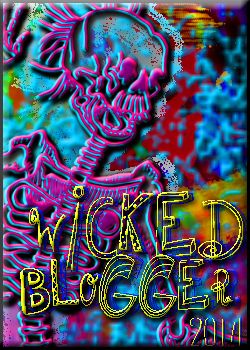 Smeared Ink Wicked Bloggers 2014