If you are looking for my weekly Digital Delights Challenge it is HERE .
During the month of October I am participating in a month-long blog hop with some amazing artists. Everyday you will find a new Halloween project on all of the blogs listed below. Each project must have stamping on it, be it digi or ink. There are prizes to win, be sure to check out all the rules HERE and information on the daily scavenger hunt is posted there! You must go HERE to find the item/s you are looking for the scavenger hunt.
So here we are...the 31st day of October! I used my fun Kitty stamp that comes with the date on it...I doodled my favorite Icarus tangle in the corner that was reminiscent of a spider web! So of course a spider needed to dangle...I have been fascinated by cauldron imagery this month and decided to play with that and my shading with my grey brush PITT pen...and something about this scene finally said TOAD! You need a toad! I hope you enjoy my stylized toady frog in the corner! Happy Halloween everyone! I hope you've enjoyed the hop. I encourage you to follow my blog and facebook and pinterest...links are included below!
Check out our other Wicked Bloggers on this last day!!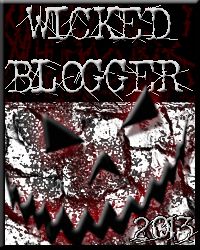 31 Days of Halloween 2013 Wicked Blog Roll
Terra | Black Dragon | Kapree | Shell | Kristy | Susan | Helen | Loren | Alison | Kelli
De Stempelwinkel | Monique | Karen | Airless Chambers | Jane | Jennifer | Emily | Lisa |

Lyneen


Wendy |

Altered Pages Art Sociates

|

leslierahye

| Delicious Doodles |

Roni

| Shoni | Jenn |
DominoART | Jessica | Sandy |

Carla | Julia | Steph | Anna