During the month of October I am participating in a month-long blog hop with some amazing artists. Everyday you will find a new Halloween project on all of the blogs listed below. Each project must have stamping on it, be it digi or ink. There are prizes to win, be sure to check out all the rules HERE and information on the daily scavenger hunt is posted there! You must go HERE to find the item/s you are looking for the scavenger hunt.
Today I have created this tag with lots of yummy bits from my "left overs bin". I have an old dictionary that I rip random pages from--I found one that had the definition of cat on it--perfect for my scardy cat stamp! I added it to a piece of gauze paper and some left over journal pages from another project. I have a box of leftover Cheery Lynn Designs dies...since I have been working with fall and Halloween and steampunk lately I had some left over flowers and doilies that would work well. I added some Robin's Nest Dew Drops in a marquis shape and some fun pompom trim for the bottom...line work and charcoal finish out the details.
Tip!!
To age your dictionary paper without getting that dull burned look--apply a thin layer of white glue to surface first and then Zap with heat tool...the glue will turn a nice caramel brown !
Thank you for hopping by! Please go on to check out the rest of the stops!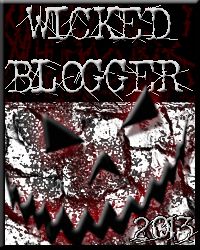 31 Days of Halloween 2013 Wicked Blog Roll
Terra | Black Dragon | Kapree | Shell | Kristy | Susan | Helen | Loren | Alison | Kelli
De Stempelwinkel | Monique | Karen | Airless Chambers | Jane | Jennifer | Emily | Lisa |

Lyneen


Wendy |

Altered Pages Art Sociates

|

leslierahye

| Delicious Doodles |

Roni

| Shoni | Jenn |
DominoART | Jessica | Sandy | Carolyn | Carla | Julia | Steph | Trisha | Brigitte | Lisa | Anna