During the month of October I am participating in a month-long blog hop with some amazing artists. Everyday you will find a new Halloween project on all of the blogs listed below. Each project must have stamping on it, be it digi or ink. There are prizes to win, be sure to check out all the rules HERE and information on the daily scavenger hunt is posted there! You must go HERE to find the item/s you are looking for the scavenger hunt.
Today I created this fun fat book with lots of yummy bubbly painty misty texture. This Trick or Treat Frankenstein is from the same set that the Count came from--I just love that set! I stamped and painted Franky and tinted the background with distressed ink. Of course my favorite creepy cloth is added to the background. A diecut frame and bat adds focus to the fat book page. The trick or treat message comes from Tim Holtz's Holiday papers.
I hope you enjoy my page!
Thank you for looking! Be sure to enjoy the other hoppers as well!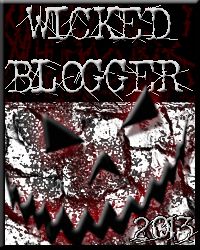 31 Days of Halloween 2013 Wicked Blog Roll
Terra | Black Dragon | Kapree | Shell | Kristy | Susan | Helen | Loren | Alison | Kelli
De Stempelwinkel | Monique | Karen | Airless Chambers | Jane | Jennifer | Emily | Lisa |

Lyneen


Wendy |

Altered Pages Art Sociates

|

leslierahye

| Delicious Doodles |

Roni

| Shoni | Jenn |
DominoART | Jessica | Sandy |

Carla | Julia | Steph | Anna