During the month of October I am participating in a month-long blog hop with some amazing artists. Everyday you will find a new Halloween project on all of the blogs listed below. Each project must have stamping on it, be it digi or ink. There are prizes to win, be sure to check out all the rules HERE and information on the daily scavenger hunt is posted there! You must go HERE to find the item/s you are looking for the scavenger hunt.
If you are looking for my Delightful Challenges Post please look here.
Welcome to Day 2 of the 31 Days of Halloween hop with SmearedInk.com! Today my Tag Thursday project starts on a base of Authentique Paper and has a layer of Embossing paste smooshed through a Tim Holtz stencil. I then spritzed with a mist of Dylusians ink and swirled on some brushed corduroy. Next I stamped a Halloween ad background stamp on some white cardstock with the same brown ink and added a witchy crow in Memento black highlighted with some orange marker. An orange bow and citrus green sequins and a bit of die cut border in black finish off this short tag! I hope you enjoy my tag! Please join me again tomorrow!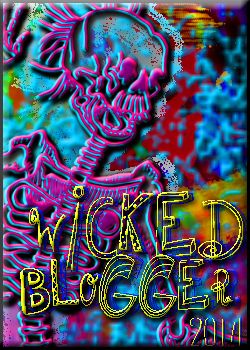 Smeared Ink Wicked Bloggers 2014