During the month of October I am participating in a month-long blog hop with some amazing artists. Everyday you will find a new Halloween project on all of the blogs listed below. Each project must have stamping on it, be it digi or ink. There are prizes to win, be sure to check out all the rules HERE and information on the daily scavenger hunt is posted there! You must go HERE to find the item/s you are looking for the scavenger hunt.
Welcome to Day 22 of the 31 Days of Halloween hop with SmearedInk.com! Today I'm sharing this quick "Poe" ATC with my raven and the sentiment "nevermore." The pattern paper has a bit of distressing and misting through some Tiny Circles Mesh which is also echoed as the actual mesh under the sentiment. The edges are distressed with a pattern marker, some brown chalk, some brown distress ink and some pen scribbles :) The whole front is then mounted on a piece of Black ATC card stock and the Raven receives a bit of black bling for his eye!
I hope you enjoyed my card! Please come back tomorrow!!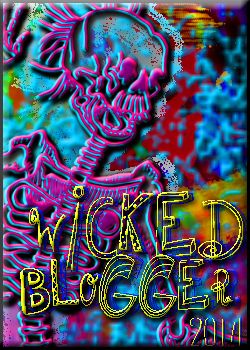 Smeared Ink Wicked Bloggers 2014
Coming Soon to a Blog Near You!!!