During the month of October I am participating in a month-long blog hop with some amazing artists. Everyday you will find a new Halloween project on all of the blogs listed below. Each project must have stamping on it, be it digi or ink. There are prizes to win, be sure to check out all the rules HERE and information on the daily scavenger hunt is posted there! You must go HERE to find the item/s you are looking for the scavenger hunt.
You are missing days 11-13 for me...they are being restored daily...we had a mishap with the storms while I was out of town for the weekend...check back soon.
Welcome to Day 14 of the 31 Days of Halloween hop with SmearedInk.com! Today I'm sharing a small tile that I created with a piece of artist board and emboss enamels. I layered on enamels until I had a think molten tile and then I stamped the spiderweb rubber stamp into my molten EP. Once it cooled, I traced over the imprinted web with first white paint pen and then glitter pen to add some extra sparkle--thus making it virtually impossible to photograph directly! I finished the piece with black paint pen around the edges. I hope you enjoy my project! Please come back tomorrow for more!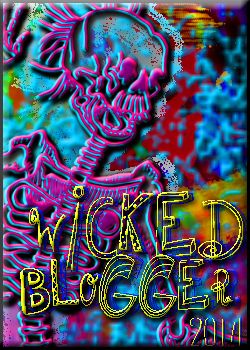 Smeared Ink Wicked Bloggers 2014