During the month of October I am participating in a month-long blog hop with some amazing artists. Everyday you will find a new Halloween project on all of the blogs listed below. Each project must have stamping on it, be it digi or ink. There are prizes to win, be sure to check out all the rules HERE and information on the daily scavenger hunt is posted there! You must go HERE to find the item/s you are looking for the scavenger hunt.
Happy Monday! Today I'm sharing another little fat book page with you and a tutorial on how to achieve the textured background! Thank you for stopping by! I hope you enjoy the photo-tutorial
Apply paint to the surface of your board...You want thick spots and thin spots. This paint had a thinner consistency than some paints and came out of the bottle with bubbles! Most of the time it is a creamier consistency. Never fear, this will not alter the process, the heat will pop most of the little air bubbles to start with!
Start heating the paint...it will dance and swell! It's really pretty fun! This is why I do this, the fun factor...the cool texture at the end is just a bonus for me! The above photo shows the paint puffing while the heat is applied...
when I remove the heat the paint deflates like this.
Sometimes when you heat a big bubble, it will break allowing more wet paint to bubble. In the thinner areas the paint still reacts with smaller bubbles.
OR...add more orange paint and heat again---it's not a problem to layer on more!
Then when you're happy with the base, add your second color. I like the effect of having it on just part of the tile. You can use a paint brush or a stick or whatever to target the paint where you want it. I like some of the under color showing through.
Then zap it again with the heat. In some places on this you will notice the green has a grey tinge to it...That is where I concentrated more heat after the paint was dry and had quit expanding.
Now, you have leave your background as is--like I did on the May Arts Project in my second post today--or you can add more layers. I added some Dylusons mist in brown to the fat book page. Yes, I zapped that with heat too!
I completed the card by adding on my burlap and focal piece along with the words and floral embellishment!
I hope you give it at try! Thank you for your interest in my technique!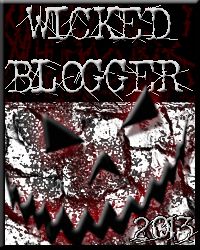 31 Days of Halloween 2013 Wicked Blog Roll
Terra | Black Dragon | Kapree | Shell | Kristy | Susan | Helen | Loren | Alison | Kelli
De Stempelwinkel | Monique | Karen | Airless Chambers | Jane | Jennifer | Emily | Lisa |

Lyneen


Wendy |

Altered Pages Art Sociates

|

leslierahye

| Delicious Doodles |

Roni

| Shoni | Jenn |
DominoART | Jessica | Sandy |

Carla | Julia | Steph | Anna