During the month of October I am participating in a month-long blog hop with some amazing artists. Everyday you will find a new Halloween project on all of the blogs listed below. Each project must have stamping on it, be it digi or ink. There are prizes to win, be sure to check out all the rules HERE and information on the daily scavenger hunt is posted there! You must go HERE to find the item/s you are looking for the scavenger hunt.
Today I'm using this fabulous Smeared Ink digi of the witchy to make an ATC.
I began by coating my white card stock with Dylusians inks and drying them. I then ran the green paper through my printer to print out a sheet of witchies! Next I went over face line with a grey PITT pen brush, white charcoal in the eyes and then gold wink of stella over to get that yellowed sparkly look. Distress Markers colored the hair and the eyes. a blob of glue on the warts not only held in her chin hairs but allowed me to have a dimensional mole created with Distress glitter [and now my brain randomly jumps to the Austin Powers scene where he can't stop saying "Moley"--lol] BUT I digress. Black distressed gauze from the dollar tree provide a hairy wrap for the witch and with one of my $1 Bin stamps I add the message 'Boil, Bubble, Toil and Trouble..." on a punched piece of inked card stock. I LOVE how she turned out! I hope you do too!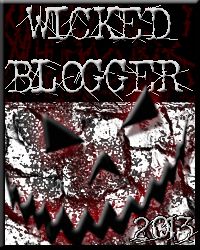 31 Days of Halloween 2013 Wicked Blog Roll
Terra | Black Dragon | Kapree | Shell | Kristy | Susan | Helen | Loren | Alison | Kelli
De Stempelwinkel | Monique | Karen | Airless Chambers | Jane | Jennifer | Emily | Lisa |

Lyneen


Wendy |

Altered Pages Art Sociates

|

leslierahye

| Delicious Doodles |

Roni

| Shoni | Jenn |
DominoART | Jessica | Sandy | Carolyn | Carla | Julia | Steph | Trisha | Brigitte | Lisa | Anna