During the month of October I am participating in a month-long blog hop with some amazing artists. Everyday you will find a new Halloween project on all of the blogs listed below. Each project must have stamping on it, be it digi or ink. There are prizes to win, be sure to check out all the rules HERE and information on the daily scavenger hunt is posted there! You must go HERE to find the item/s you are looking for the scavenger hunt.
Today I'm sharing with you a drawer pull crafted from upcycled materials [dictionary pages, cardboard box, recovered orange tissue from a gifty and left over fibers from a crochet project. Square cardboard was decoupaged with orange tissue paper. Spiderwebs were stamped on the background and edged with black ink. Letters were stamped on pieces of dictionary paper that had "spooky" words--boo, spook, poltergeist. The letters were then colored with white charcoal to help them pop. Ribbon was sandwiched between the cardboard and a black square of card stock to tie the letters together. Fibers form the hanger and the tassel for the drawer pull!
Thank you for looking!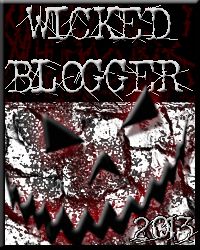 31 Days of Halloween 2013 Wicked Blog Roll
Terra | Black Dragon | Kapree | Shell | Kristy | Susan | Helen | Loren | Alison | Kelli
De Stempelwinkel | Monique | Karen | Airless Chambers | Jane | Jennifer | Emily | Lisa |

Lyneen


Wendy |

Altered Pages Art Sociates

|

leslierahye

| Delicious Doodles |

Roni

| Shoni | Jenn |
DominoART | Jessica | Sandy | Carolyn | Carla | Julia | Steph | Trisha | Brigitte | Lisa | Anna