During the month of October I am participating in a month-long blog hop with some amazing artists. Everyday you will find a new Halloween project on all of the blogs listed below. Each project must have stamping on it, be it digi or ink. There are prizes to win, be sure to check out all the rules HERE and information on the daily scavenger hunt is posted there! You must go HERE to find the item/s you are looking for the scavenger hunt.
Happy Day 5 31 Days Hoppers!! Today I'm sharing a tag that is partly "upcycled" and partly a "follow the art" project. This started out as an over-spray upcycle...I LOVE misting and creating backgrounds with different mediums. I keep over-spray sheets and use them with future projects. This piece had some seasonal colors and so it seemed perfect to start my project on and see where the art took me.
Since this hop is about STAMPING and HALLOWEEN, I next added some Halloween stamps that I've had for several years and honestly do not remember where they came from--I apologize!
I stamped them with yummy mix'd media ink in Black and dusted the wet ink with High Gloss Emboss Powder to set the ink. From there I went to add a thread for my spider which led to me tangling the edges of my tag--yeah it's kind of an "If you give a mouse a cookie..." kind of process. I go here when I've had a busy week and need to unwind with art but really don't have an end project in mind. It often involves me playing with new or favorite items, doodling--because doodling ALWAYS makes me happy and something with beads or dangled things!

From Stamping I went to doodling and then incorporated some white and black charcoal on my doodles and decided that rather than a traditional hole in the top of the tag tail I wanted to attach my strings and things in a unique way! A bit of white glue allowed me to get a point on my thread to attach some glass crystals and a fun skull bead! A bit of black cheesecloth finished the look!
I hope you like my tag and take some time to follow your art...experiment, upcycle, enjoy the journey!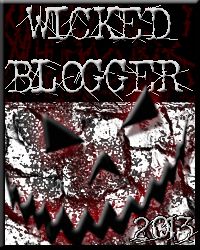 31 Days of Halloween 2013 Wicked Blog Roll
Terra | Black Dragon | Kapree | Shell | Kristy | Susan | Helen | Loren | Alison | Kelli
De Stempelwinkel | Monique | Karen | Airless Chambers | Jane | Jennifer | Emily | Lisa |

Lyneen


Wendy |

Altered Pages Art Sociates

|

leslierahye

| Delicious Doodles |

Roni

| Shoni | Jenn |
DominoART | Jessica | Sandy | Carolyn | Carla | Julia | Steph | Trisha | Brigitte | Lisa | Anna