If you're looking for my Delightful Challenges post, it is here.
During the month of October I am participating in a month-long blog hop with some amazing artists. Everyday you will find a new Halloween project on all of the blogs listed below. Each project must have stamping on it, be it digi or ink. There are prizes to win, be sure to check out all the rules HERE and information on the daily scavenger hunt is posted there! You must go HERE to find the item/s you are looking for the scavenger hunt.
Today I am sharing a stamped "reassembled" piece. I create a background--this time with mists onto cardboard that has had a matte finish decoupage glaze laid down to keep the sprays from soaking--allowing them to do their drippy runny fun. I then stamped my image--in this case pumpkins--onto a piece of book paper I colored it in with Spectrum Noir pens and fussy cut around the main image.
Next I stamped the image on my background and adhered the cut pieces onto the stamped image. Next I cut apart my image and inked the edges. Finally I glued it back together and added some fiber and hardware for a final "arty" touch. At this point this art piece can be made into a magnet, or a pin, or any kind of fun embellishment for your arty needs.
I hope you enjoy my project! Be sure to check out the others!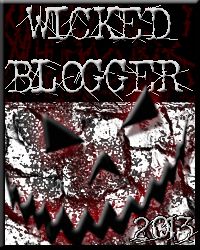 31 Days of Halloween 2013 Wicked Blog Roll
Terra | Black Dragon | Kapree | Shell | Kristy | Susan | Helen | Loren | Alison | Kelli
De Stempelwinkel | Monique | Karen | Airless Chambers | Jane | Jennifer | Emily | Lisa | Lyneen
Wendy |

Altered Pages Art Sociates

|

leslierahye

| Delicious Doodles |

Roni

| Shoni | Jenn |
DominoART | Jessica | Sandy | Carolyn | Carla | Julia | Steph | Trisha | Brigitte | Lisa | Anna