During the month of October I am participating in a month-long blog hop with some amazing artists. Everyday you will find a new Halloween project on all of the blogs listed below. Each project must have stamping on it, be it digi or ink. There are prizes to win, be sure to check out all the rules HERE and information on the daily scavenger hunt is posted there! You must go HERE to find the item/s you are looking for the scavenger hunt.
Good Morning 31 Days of Halloween Fans! Today I'm sharing my fun Zombie card with you using Nikki's
Melonheadz Digis
! I love Nikki's whimsical doodles and her Halloween images are too fun!! Be sure to check them out! I colored my card with Spectrum Noir Markers and layered cardstock and some upcycled denim to complete my card!
Melonheadz Digis used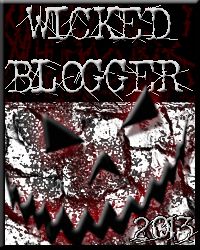 31 Days of Halloween 2013 Wicked Blog Roll
Terra | Black Dragon | Kapree | Shell | Kristy | Susan | Helen | Loren | Alison | Kelli
De Stempelwinkel | Monique | Karen | Airless Chambers | Jane | Jennifer | Emily | Lisa |

Lyneen


Wendy |

Altered Pages Art Sociates

|

leslierahye

| Delicious Doodles |

Roni

| Shoni | Jenn |
DominoART | Jessica | Sandy |

Carla | Julia | Steph | Anna