During the month of October I am participating in a month-long blog hop with some amazing artists. Everyday you will find a new Halloween project on all of the blogs listed below. Each project must have stamping on it, be it digi or ink. There are prizes to win, be sure to check out all the rules HERE and information on the daily scavenger hunt is posted there! You must go HERE to find the item/s you are looking for the scavenger hunt.
Happy 20th day of the 31 Days of Halloween!! Today I am using a favorite alphabet stamp again...it is a Halloween Clear Set from Inkadinkado. Sadly for those of you who have asked I believe it to be retired--I apologize for not having product numbers as the outer package of this fave has long since made it to the trash. I have seen them on ebay if you're diligent.
Distressed ink on the "roughed up" edges give an aged look to the bookmark. I then used the alpha set and a $1.50 Michaels CrasftSmart stamp for the spiderweb at the top and bottom of my stamped focal piece. I colored in lightly the snake on the "e" the bones on the "a" and the tombstone on the "r" with prismacolors. The focal piece was then mounted on a piece of purple spiderweb paper.
Thank you for looking! Check back tomorrow for a mini tutorial on creating textures with paint. It will be my pleasure to share that technique with you all! Thank you again!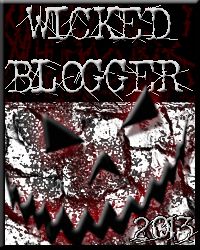 31 Days of Halloween 2013 Wicked Blog Roll
Terra | Black Dragon | Kapree | Shell | Kristy | Susan | Helen | Loren | Alison | Kelli
De Stempelwinkel | Monique | Karen | Airless Chambers | Jane | Jennifer | Emily | Lisa |

Lyneen


Wendy |

Altered Pages Art Sociates

|

leslierahye

| Delicious Doodles |

Roni

| Shoni | Jenn |
DominoART | Jessica | Sandy |

Carla | Julia | Steph | Anna
COMING SATURDAY TO A BLOG NEAR YOU!!!