If you are looking for my Delightful Challenge post it is here!
During the month of October I am participating in a month-long blog hop with some amazing artists. Everyday you will find a new Halloween project on all of the blogs listed below. Each project must have stamping on it, be it digi or ink. There are prizes to win, be sure to check out all the rules HERE and information on the daily scavenger hunt is posted there! You must go HERE to find the item/s you are looking for the scavenger hunt.
Happy Day 10!! We are almost 1/3 of the way through today!! Can you believe it?!? It seems like we just started! Today I wanted to share with you one of the best kept secrets on the web~my good friend Vince! He's an amazing digital artist and not only does he do fantastic digi drawings, but he is also a master digital colorist! An most amazing of all is that he shares his art for free personal use! Fall is one of his personal favorite seasons and he tends to be highly productive during that time period. Today I am sharing a fast and easy card made with this pre-colored image...if you didn't like this background you have several to choose from here! Be sure to check out Vince's blog and give him some love for his amazing designs! Later in the month I will be sharing some projects that I did with his Day of the Dead images.
Thank you for stopping by.
Be sure to check out the rest of the hop!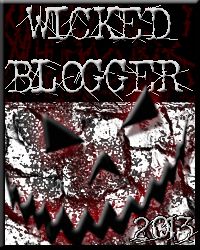 31 Days of Halloween 2013 Wicked Blog Roll
Terra | Black Dragon | Kapree | Shell | Kristy | Susan | Helen | Loren | Alison | Kelli
De Stempelwinkel | Monique | Karen | Airless Chambers | Jane | Jennifer | Emily | Lisa |

Lyneen


Wendy |

Altered Pages Art Sociates

|

leslierahye

| Delicious Doodles |

Roni

| Shoni | Jenn |
DominoART | Jessica | Sandy | Carolyn | Carla | Julia | Steph | Trisha | Brigitte | Lisa | Anna