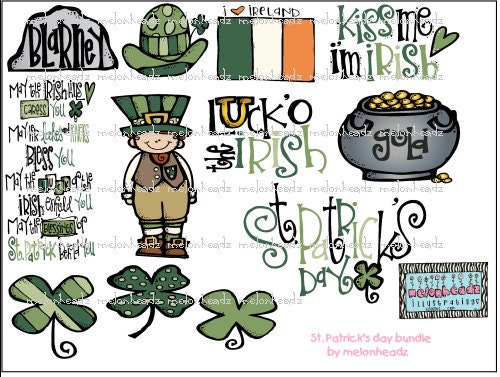 Good Morning! It's time for another
Melonheadz Friends Challenge
over on the Melonheadz Friends blog. See below for all the details of the challenge. Today's challenge is a GO GREEN challenge--upcycled, color green or St. Patricks theme. I love Nikki's word art and the Irish Blessing on her St. Patrick's Day Bundle is fabulous! I printed it in black and colored with my markers and outlined some words to further highlight them. I love how my Irish Blessing wall art looks with its fancy shamrocks--also in the bundle! Thank you for stopping by! Please join our challenge!
Our challenge this time is to make a PROJECT (card or other papercrafting item) GO GREEN - so we are looking for creations with the Color Green, St. Patrick's theme or recycle something! You can find all sorts of amazing images over at
MELONHEADZ ETSY SHOP
and you will probably find some FREEBIES over on the
MELONHEADZ ILLUSTRATIONS BLOG
.
The Rules for the Challenge
You are not required to use an image from
MELONHEADZ ETSY SHOP
, but if you do, you can enter
as many times as you like and your theme will be anything goes
.
If you choose not to use an image from Melonheadz, that is fine too, but then you must follow the challenge theme and are allowed 2 entries per person.
Our challenges will run just about 2 weeks, so this challenge will end at 11:59pm EST on March 17th and the new challenge will begin on the 18th. Random prize winner will get 1 Bundle of Choice from
MELONHEADZ ETSY SHOP
, what an awesome prize!!